We were really excited to be invited to The Verbier Festival 2008. It turned out to be the last musical engagement for us before our long awaited sabbatical – what better way to bring a busy five year period to a close than to immerse oneself in such spectacular surroundings with so many of the world's great artists?
Despite having heard a great deal about this incredible festival, we had no idea just how much music was in store! We were invited to give a Festival Concert, to take part in a production of Mozart's 'Cosi fan Tutte' for string quartet, piano and singers and, as part of the Festival Academy, to have six public master classes with renowned violinist Gabor Takacs-Nagy. There was also a truly fantastic array of concerts to choose from and, should one wish to escape it all, a breathtaking array of walks to embark upon.
After a long and tiring train journey from Frankfurt, where we had been playing at the Rheingau Festival, we arrived in a very rainy Verbier on a Sunday to find it completely deserted. As we were very hungry we went in search of a place to eat – after walking through the town (and getting completely soaked!), we finally found a nice Italian place before enjoying a long night's rest. The following morning we awoke in the centre of what seemed a different town altogether – the sun was shining and the streets around us bustling, all the concert venues within striking distance. We were staying in a self-contained flat that belonged to the Hotel de Verbier – it was nice to have our own place because it gave us the feeling of being more at home… It didn't have a kitchen but there was a lovely breakfast at the hotel and for lunch and dinner we ate out – quite an expensive habit in Verbier! Apart from the first evening we were incredibly lucky with the weather; it was sunny for most of the festival, our bronzed bodies belying the hours of hard work…! The beautiful surroundings were very inviting, so we scheduled our rehearsals in such a way that we had some free time to take the lift up the mountains.
The master classes with Gabor Takacs were very refreshing and inspiring. Although we had worked with him before, the combination of the Festival environment and the intensive way of Gabor's teaching made it a unique learning curve for us. Since we had had a very busy year with a total of eighty-five concerts, we felt we needed a fresh approach to the music we had performed so many times and Gabor was just the right person to help us with that. We mainly worked on Mozart's d-minor Quartet KV421 and Beethoven's c#-minor Quartet Op.131, giving not only ourselves but also the audience a taste of Gabor's creative ideas. With his incredible and never-ending imagination, enthusiasm, humour and many interesting stories, he made the master classes very attractive to the audience so that the room in the hotel was always crowded with people.
We played Haydn's Quartet Op.33 no.6 and Shostakovich's Quartet no. 5 in our Festival concert. The concert venue 'Chalet Orny' may not have the most refined acoustic (it serves as a ski school in winter!) but the intimate atmosphere made it a very special experience.
For the second half of the Festival we worked mainly on the production of Mozart's 'Cosi fan Tutte' with a fantastic cast of young singers. With the help of Gabor, Simon Lepper and Caroline Dowdle we embraced the challenge of performing 'Cosi' as a chamber work – without a conductor! It was a unique experience for everyone involved and we all enjoyed every second of it. It was a great challenge to be able to react to the singers as a chamber music group and vice versa. Likewise it was a test of everyone's listening and communication skills – perhaps the key ingredients of great chamber music! The performance on the final day of the Festival was sold out and greatly received by the audience – we all regretted that there was only one performance of it. It was a wonderful end to an experience that will stay with us for a long time.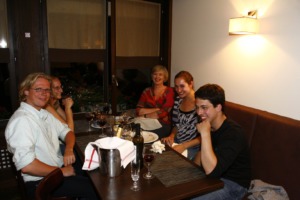 Navarra Quartet with BBT's Susan Rivers in Verbier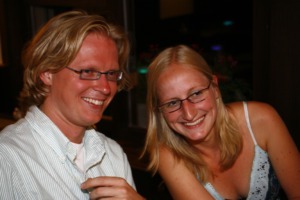 Xander van Vliet and Marije Ploemacher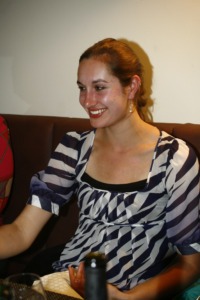 Simone van der Giessen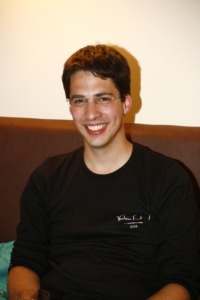 Nathaniel Boyd