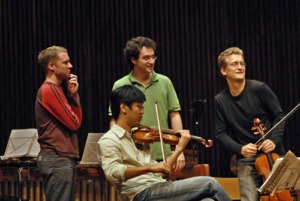 Is there a difference whether playing Debussy in Paris or in New York? The qualities in Debussy's music transcend time and place so if there is a difference, it has more to do with the piano or the hall but not necessarily the city (although it's always nice to have an excuse to be in Paris, of course). Recently, after having played a recital program in several American and European cities, I found myself thinking about audiences. Not that one doesn't think of the audience during the concert – in a way, it would be unnatural to completely ignore it. Clearly not all audiences are the same. As much as one would like to avoid pop psychology it is fascinating to pause and think sometimes whether there is such a thing as a European musical sensibility or an American one. But this recent experience was also a reminder how misleading generalizations can be and that an audience can be just as likely to absorb Debussy with the concentration that his music demands and with equal intent and appreciation for his genius, whether in a small town in South Carolina or in the 7th Arrondissement.
As part of the BBC New Generation Artist Scheme over the last year and a half, I have also been fortunate to visit the UK very frequently and appreciate British passion for classical music. It has been especially rewarding to come across some of the small music societies, like the one in Abbotsholme, in the West Midlands and discover the fervent devotion of its audience. The intimacy of these venues is fitting for a piano recital and one attempts to recreate it in bigger cities.
It can be tempting to classify audience reaction based on geography.
The UK audience, for example (as well as the German one, at least to judge by recent, decidedly unscientific examination) seems to applaud only after the music has stopped, as soon as the last bravura chord is cut off, as if not to interfere with the music. In the US (and Italy, which was also a part of the unscientific survey), a rousing ending might be met with applause while the last chord is still ringing… which doesn't necessarily imply disrespect for the music (if anything, the last thing a musician is likely to wish himself is too long of a silence following a bravura ending).
And yet all of this needs to be taken with a grain of salt. After all, we as musicians feel and play differently each night (weather, the instrument, the hotel, the local restaurant scene, etc., etc.) so the reaction of the audience is not just a matter of geography after all.
Perhaps the fact that is as true as much as it is difficult to acknowledge is that audience reaction is first and foremost a result of the performance. A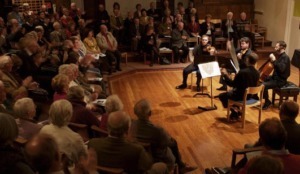 nd when people are loud and move in their seats they are not necessarily being rude (although it's certainly a valid argument) but could be simply uninterested… One of the hardest but equally rewarding things to achieve when playing for other people is – rather than to 'project' the music out to them – to draw them ever closer, seemingly without them being aware of it.