Quatuor Ebène cellist Raphäel Merlin talks about what's in store for the quartet – award winners in 2007 – during our BBT Celebrated weekend in May, and recalls the time spent with BBT films in the French Alps back in 2009: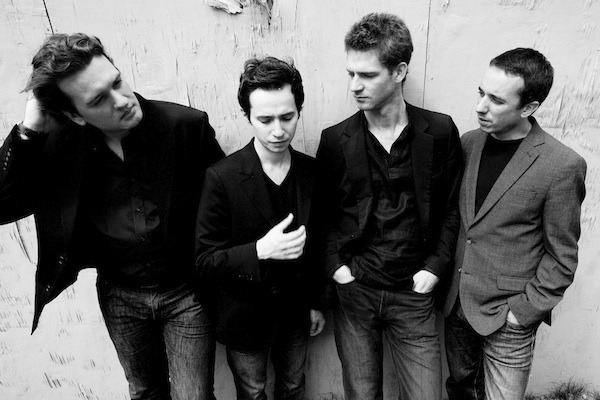 A Special Memory
When the BBT team came to visit us in Briançon (in the French Alps) to make a movie on us: we were practicing the first Brahms string quartet, everything was covered in snow, we could actually ski. It was magical, the atmosphere was so friendly, like a family. In this small concert hall up on the mountains, with such intimate and deep music. Nobody can ever forget this!
Preparing for BBT Celebrated
We will play the Franck quintet with Mitsuko Ushida, a crazy romantic piece with limitless amplitude, cyclic obsessional elements taken by a gigantic orchestral writing. The beginning of the slow movement under Mitsuko's fingers is something on the other side… something that conveys tenderness and melancholy. There will also be a jazz set which we're always very happy and proud to share with the audience, as it shows our diverse range.
Current Projects
We're now in India, for a few concerts in Pune and Mumbai (Mozart, Ravel, Beethoven, Brahms and Schubert quintets, and a jazz set). At the same time we're busy practicing Bartok's 4th quartet, as we'll perform it for the first time very soon at the Wigmore Hall. It's a very hard piece to play, with huge force and great harmonic development.
Dream Projects
Cycles! The 6 Bartóks, all the Beethovens… And everything – whichever the genre – which allows for quality playing, and for reaching new audiences. There's no better challenge than sharing new emotions through music.
Advice for young musicians: "Is talent enough?"
For sure not! Nobody can avoid practicing, but every artistic work should be in reaction to the real world, to the real life, and it should be imaginative, evocative to the public. Global vision and precise execution are nothing without each other!
Quatuor Ebène perform on Friday 17 May (free concert: The Other Ebène + Llŷr Williams) and Sunday 19 May, 2013 (Borletti-Buitoni Trust Celebrated with Mitsuko Uchida) at the Queen Elizabeth Hall. For more information and to book tickets, visit our BBT Celebrated page.