Some weeks ago I was present at a very special event. By the time you read this blog it has been officially announced that BBT gave a Special Award to the famous Hungarian composer György Kurtág and his wife, the wonderful pianist Márta Kurtág. The presentation happened in Budapest during an informal lunch and, as a member of the BBT family, I was lucky also to be there.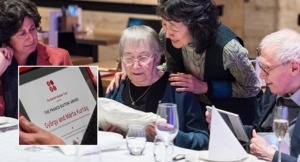 I don't need to tell you what Kurtág and his music mean to musicians, especially to us Hungarians. He is certainly one of the most important composers of the second half of the 20th century and fortunately he is still with us and keeps creating masterpieces. Whoever has ever taken masterclasses with him, or seen him play four hands together with his wife, knows what his music means. As Mitsuko Uchida says: "We know György Kurtág the great composer but with him always is Márta the wonderful pianist." They are certainly an extraordinary couple helping and completing each other.
The event took place in the Budapest Music Centre. This is a recently renewed building which includes a concert hall, a well-equipped library, a jazz club and several rehearsal rooms as well as some dormitories and an apartment. This place has been the Kurtágs home since they decided to move back to Hungary. The day was very cold but beautiful and sunny. I left home very excited, aware that one doesn't have the chance to be in such company every day. Not to mention that I was going to meet Mrs Buitoni for the first time. She and Mitsuko Uchida flew to Budapest only for a few hours in order to make the presentation. When I arrived at the centre I learned that their flight had been delayed a little, but every cloud has a silver lining as, after an exhausting morning, at least the Kurtágs could rest a bit. They had been rehearsing with singers for his forthcoming opera: just a usual day in the life of a 90-year-old couple!
When they finally arrived and introductions were over, Mitsuko Uchida went to the piano and played Mozart's Sonata Facile (K. 545). What a genius gift! It couldn't be better than the Sonata Facile. Simplicity and complexity: just a few notes but the greatest expression. And a nice connection to Kurtág's musical language.
She joined us at the table and took a seat next to György and Márta. "Is this sonata really facile? I think this is the hardest piece!" said Mitsuko and laughed. Kurtág immediately reflected on the performance pointing out some places which he especially liked. Then the conversation kept going between them about Mozart, Schumann, Schubert – the long and short of it was that the atmosphere was very nice at the table. It was quiet, intimate and simple.
The most touching moment of the celebration was certainly when Ilaria stood up to say a few words and give the award to the Kurtágs. She spoke in French but one didn't need to get the exact meaning of the words to understand what it was about. She couldn't hold back her tears, we probably all know why. This could have been a meeting of two wonderful married couples…
All photos by Bálint Hrotkó / © BMC