December Days in Boscoforte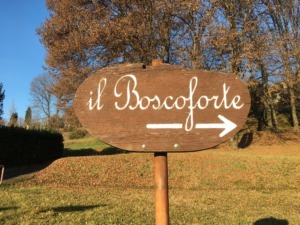 After a week in London where we recorded for our first BBC New Generation Artist broadcast, heard Mitsuko Uchida in an unforgettable concert of Mozart with the Mahler Chamber Orchestra, had a reunion with our BBT family and lessons with the Belcea Quartet we arrived in Boscoforte after night had fallen. Prior to our arrival, we spent two weeks globe-hopping from New York to Hong Kong to London and it was a welcome reprieve to be able to spend six days of leisure in one place.
On our first morning we awoke to behold an icy and green hillside spilling downwards to a dense forest. In the distance Lago Maggiore shimmered against snow capped mountains. This magical backdrop was the setting for a week of exploration of Mozart's String Quartet K.421 and Ligeti's String Quartet No 1 Metamorphosis Nocturnes as we prepared for concerts in the New Year.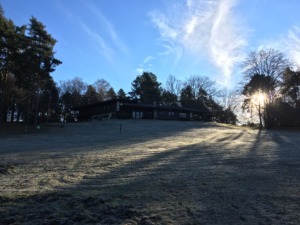 As with any daily activity, especially a musician's practice or rehearsal, it is easy to drift into predictable patterns. But with the peace and tranquility of Boscoforte (the antithesis of our homes and lives in Manhattan) we disassembled our usual routine. Having the luxury of time, we didn't have to rush into any interpretive decisions.
We spent time playing through each phrase very slowly while letting the harmonic shifts percolate into our nervous systems.Our practice in Boscoforte reconnected us with one of the beautiful truths of the string quartet genre: with such a rich and profound canon, every piece has innumerable avenues for exploration and interpretation.
Rehearsals and personal practice were interspersed with walks along the estate, often encountering the dogs of Boscoforte. Some of the canines were a bit skeptical of us upon our arrival. But by the time of our departure we had a howling farewell committee!
We are a quartet that is as passionate about the food we eat as the music we play. Thus, the highlight of each day was the incomparable Italian cooking of Adele, Boscoforte's culinary master! The three courses of lunch and dinner fueled our practice and our souls! All varieties of pasta, cheeses, cured meats, soups and delicious cakes were present at our feasts fit for kings.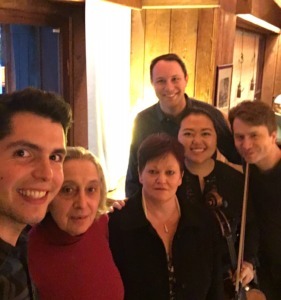 As none of us speak Italian, communication was difficult at first with Adele, Lucia and the others who work at Boscoforte. Eventually, using a mixture of Spanish, hand gestures and the bits of Italian we know from our study of music, we were able to have entire conversations together. On our last day we organized a concert for Adele and Lucia where we performed Mozart's String Quartet K.421 as a thanks for their help and friendship. We left Boscoforte with full hearts and full stomachs, rested and prepared for the New Year!