The latest in our series of BBT Celebrated guest blogs, cellist Marie Bitlloch on why touring the Quartet's Beethoven Project is like living a dream. 
Can you share a special memory about the year Elias String Quartet received its BBT Award?
The year of 2010 was quite special for the quartet (or rather the season 2009/10). We had just decided to dedicate ourselves fully to the quartet, had left a residency behind and moved to London, all to really concentrate on string quartet repertoire and our career. Although we knew that was the right decision for us, for our goals, it was quite scary to leave all the extra work behind and put all our eggs in one basket! That year we got onto the BBC New Generation Artists programme and received our BBT Award. It was really heartwarming (and a bit of a relief) to get outside "approval" and to feel that we had made the right choice. And with the help of the BB Trust, we started planning our first ever Beethoven cycle… which is happening right now! A dream come true.
What piece are you performing at BBT Celebrated and what does it mean to you?
We are playing Mozart's Clarinet Quintet with Martin Fröst. This is a piece we've played quite lot with various clarinettists (actually, that's what we played the very first time we appeared on BBC Radio 3's "In Tune" back in 2006…). It's always great fun to play with guests: our life as a quartet is spent mainly with each other, so it can be really refreshing and inspiring to play with new people. We have never played with Martin before, so I'm really looking forward to it!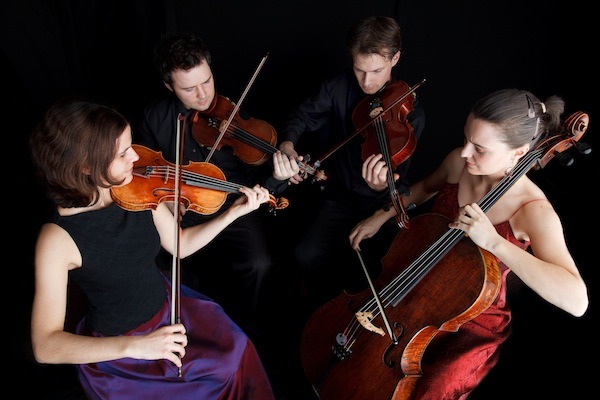 What's currently keeping you busy?
We have just come back from a big tour in North America. It was quite hectic, lots of concerts, lots of flying, but really fun and exciting. During the tour we also played with Jonathan Biss, as part of his Schumann project, which was really wonderful and inspiring. We have done a fair amount with him over the past few years, and aside from the fact that he is an incredible musician, it really feels like he is a "fifth member of the quartet"- a real joy.
Right now we are preparing our third Beethoven programme. We are presenting Beethoven cycles in 11 venues all over the UK over the next two years. We have already played two programmes in the first batch of venues this season, and programme 3 is just kicking off: Beethoven op18/2, op127 and op 59/1. A mountain to climb! All of the Beethoven programmes are really heavy, but this one is probably the biggest. With nearly two hours of music, we got our work cut out. But it is incredibly exciting and exhilarating to be on this journey. Beethoven's music is simply awe-inspiring, and for me, life-changing.
What are your dream projects?
I am incredibly lucky to be able to say: I'm living the dream right now. Of course there are many other things ahead, plans to be made, life doesn't stop with Beethoven. But as far as dreams go, this was always a pretty big one.
Is talent enough? What's your advice to aspiring musicians?
I'm sure every professional musician's answer will be the same: it is crucial, but it isn't enough. There are neverending hours of practice involved (the key is to learn to enjoy them!), but also a lot of networking, admin, project making, etc. My advice: work really hard, strongly believe in what you have to offer, and knock on every possible door until someone listens. And even after that, keep doing all that and reinventing yourself every day.
Elias String Quartet performs on Friday 17 May, 2013 (Borletti-Buitoni Trust Celebrated with Mitsuko Uchida) at the Queen Elizabeth Hall. For more information and to book tickets, visit our BBT Celebrated page.